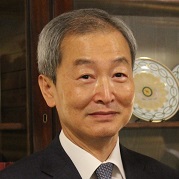 Former Ambassador to the United States 전 주미대사
Ambassador Ahn is a former diplomat of the Republic of Korea. His last assignment in the government was as Ambassador to Washington DC in 2013-2017. Before that, he used to work as Deputy Minister for Trade and the First Vice Foreign Minister at the Ministry of Foreign Affairs and Trade. He also served as Ambassador in the Brussels, where he represented Korea to the EU, Belgium and NATO-ISAF Council concurrently.

After leaving the government at the end of 2017, Ambassador Ahn joined Kyungnam University as Chair Professor of international studies. He also teaches at Korea University and consults Korean businesses.

Ambassador Ahn studied international relations at the Seoul National University (BA) and the Georgetown University (MS). He also studied law at the Korea National Open University (LLB) and the Georgetown University (LLM).