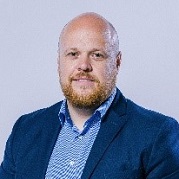 Gremon Systems 그레몬시스템즈
Chief Operating Officer COO
Mr Tamás Giller has been the COO of Gremon Systems Ltd. since 2015. He is responsible for establishing the entire financial administration of the company, the organization and management of the company's financial and other processes. He participates in the development, creation and product development strategy and business processes. Gremon Systems Ltd. primarily deals with the digitization of agricultural enterprises. As he has been working with ERP management information systems and CRM systems for more than 15 years it is his role to use the experience he gained in IT services in favor of the company. During his career he participated in the implementation of more than 100 systems, whilst Mr. Giller has gained a lot of experience in project management, incident and change management.
As the Business Unit Head of DLM Solutions Ltd. for seven years he dealt with the design, sales and introduction of ERP, CRM other IT services. Mr Giller has more than 10 years of leading experience. He has his own professional blog and he often publishes articles on different economic web sites, as expert and advisor. He published his book in 2014 with the title ERP past, present, future.