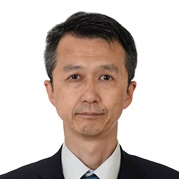 The Tokyo Shimbun 도쿄신문
Deputy Director of Politics Department 정치부 차장
Sasagase was born on July 9th, 1964 in Shizuoka Prefecture, which leads the nation in tangerine production like Jeju Island of Korea. After graduating from National University Corporation Shizuoka University, he entered the Chunichi Shimbun (Tokyo Shimbun) in April, 1992. He went through the local branches and was placed in Politics Department in 1997. Sasagase served as a correspondent in Seoul (2002 - 2005), Director of Seoul Branch (2011 - 2013) and came to the current position in August, 2013. Sasagase covered two presidential elections of South Korea and issues related to North Korea's nuclear weapons, during his time in Seoul Branch. In Politics Department, he usually covers Liberal Democratic Party of Japan and is currently serving as Cap for Prime Minister's official residence

1964년 7월 9일 제주도와 같은 감귤의 대표적인 산지인 시즈오카현에서 출생. 국립 시즈오카대학교 졸업 후 1992년 4월 주니치신문(도쿄신문)에 입사. 지방 지국을 거쳐 97년 정치부 배속. 서울 특파원(2002~05년) 서울 지국장(2011~13년)을 거쳐 2013년 8월부터 현직. 서울 지국에서 두 차례 대선과 북핵 문제 등을 취재. 정치부는 주로 자민당을 취재하고 현재는 총리 관저 캡으로 활동 중.