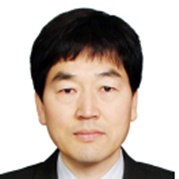 Korea Environmental Industry and Technology Institute 한국환경산업기술원
Director 실장
Dr. Jong-Hwan KIM is Director of Chemicals Management Office of Korea Environmental Industry and Technology Institute or KEITI and is in charge of Task Force for the legislation of Biocidal Product Act.
Originally trained as chemical engineer, he has studied environment management and urban planning in Seoul National University and in INSA Lyon, France. He is researcher and project manager with multidisciplinary academic and professional background with expertise in domain of strategic planning. He held positions for the research and policy development on environmental issues in both public and private sector: in LG Environment Research Institute, he has helped the LG group companies and other public agencies in building their strategies on environment management including climate change issues. In Presidential Commission on Sustainable Development, as Director of SD Planning, he has led setting up the National Sustainable Development Strategy and its implementation and evaluation system as well as a national SD indicator set.
He has been participating in national delegations for Working Party on Integration of Economic and Environmental Policy (WPIEEP) and Working Party on Environmental Information (WPEI) of OECD Environmental Policy Committee. He is also serving as a member of Central Committee on Environmental Policy of the Ministry of Environment.


김종환은 서울대학교에서 화학공학, 도시계획학(석사), 프랑스 국립응용과학원(INSA Lyon)에서 환경정책(박사)을 공부하고, 연구자 겸 프로젝트 관리자로서 공공과 민간 부문의 정책 및 전략계획 업무를 담당하였다.LG환경연구원에서 LG그룹사와 공공기관의 환경경영전략 수립, 기후변화 대응전략 등을 자문하였
다. (2002-2005) 대통령자문지속가능발전위원회(PCSD, 2006-2008)에서 국가지속가능발전전략 수립을 총괄하고, 정부 평가체계와 지속가능발전지표를 수립하였고, OECD 환경정책위원회 환경ㆍ경제정책통합작업반(WPIEEP)과 환경정보작업반(WPEI)에 참여하고 있다.
현재 한국환경산업기술원에서 살생물제(Biocide) 등 화학제품관리에 관한 입법을 책임지고 있으며 환경부의 중앙환경정책위원회 위원이다.