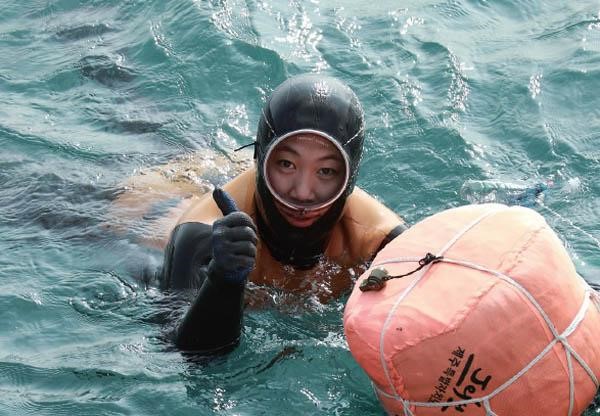 Jeju Chuja Islands Fishing grounds 제주 예초어촌계
the youngest haenyeo in Jeju Island 제주도 최연소 해녀
Jung So Young is the youngest haenyeo(Jeju female diver), who works mostly in the waters of Chupo Island near Jeju's Chunja Island. Her first experience in swimming began during her elementary school years followed by her becoming a member of the Jeju Province Swim Team in middle and high school. She was awarded several medals at national tournaments for backstroke and fin swimming. In 2011, she began her official training as a haenyeo. After three years of tough training, she was certified as an official haenyeo, receiving her Haenyeo Certification in 2014. As a young haenyeo, she contributed much to the Jeju haenyeo being listed as a UNESCO Intangible Cultural Heritage last year. These days, she is taking a lead in cultivating and preserving the haenyeo culture in Jeju.


정소영은 제주의 최연소 해녀로 제주시 추자도 인근 추포도 해역에서 활동하고 있다. 초등학교 때 수영을 시작해 중∙고교시절 도대표 선수를 지냈다. 배영과 핀수영(Fin Swimming) 종목에서 전국대회 메달을 휩쓰는 등 우수한 성적을 거뒀다. 해녀 수업은 2011년부터 받기 시작했다. 3년간의 혹독한 수련을 거쳐 14년 잠수어업인증(해녀증)을 받고 대를 이은 진짜 해녀가 됐다. 지난해 제주해녀가 유네스코 인류무형문화유산으로 등재되도록 젊은 해녀로서 힘을 보탰으며 평소 해녀문화의 명맥을 잇는데 앞장서고 있다.