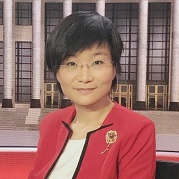 Deputy Director, Department of International and Strategic Studies 중국국제문제연구소
China Institute of International Studies 국제전략문제부 부과장
Su Xiaohui focuses on Asia-Pacific economic and security architecture as well as China's foreign affairs. She is a council member at the Chinese People's Association for Peace and Disarmament, the China Association for International Understanding and the China Arms Control and Disarmament Association.

Su Xiaohui is a frequent commentator on public affairs and diplomacy on Chinese media outlets, including China Central Television (CCTV) and China Global Television Network (CGTN). She has published on China's Security and Policy Decisions, China's Neighborhood Diplomacy and the dynamics of the Trump Administration's Policy in the South China Sea.

Su received her BA from School of International Studies, Peking University in 2004, and her MA from China Foreign Affairs University in 2009.