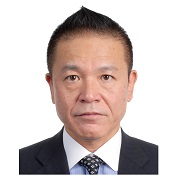 Trilateral Cooperation Secretariat 한중일3국협력사무국
Deputy Secretary-General 사무차장
YAMAMOTO is the Deputy Secretary-General of Trilateral Cooperation Secretariat (TCS) since September 2017.

He had been posted to Japanese Embassy at Beijing, China multiple times, including his post as Minister in charge of Press & Culture (2014-2017) and as counsellor of Economic Section (2007-2010). He was Director of Regional Policy Division, Ministry of Foreign Affairs (2013-2014) and served as Director in Policy Planning Office of Abduction Issue, Cabinet Secretariat (2010-2013). He was also Counsellor of Political Section in Japanese Embassy at Seoul, Korea (2005-2007).

He studied Chinese Philosophy at Tokyo University and also received a master degree in Regional Studies East Asia from Harvard University.