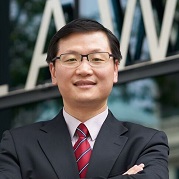 Singapore Management University 싱가포르 경영대학교
Associate Professor of Law 법학 부교수
Pasha L. Hsieh is an Associate Professor at the Singapore Management University School of Law. Prior to joining academia, he served as a Legal Affairs Officer at the WTO Appellate Body Secretariat and as an associate at Shearman & Sterling LLP. His teaching and research focus on international economic law, public international law and Asian legal studies. He is particularly interested in ASEAN law and the roles of China and Taiwan in international legal order. His recent publications include "ASEAN Law in the New Regional Economic Order: Global Trends and Shifting Paradigms" (P Hsieh & B Mercurio eds., Cambridge University Press 2019) and articles in the Cornell International Law Journal and the Intentional Relations of the Asia-Pacific. His work has been cited by the Federal Supreme Court of Switzerland, the Brookings Institution and the OECD. Hsieh has been invited by various institutions such as the European Parliament and the Singapore Judicial College to present on trade law issues. He was elected to serve as the Co-Chair of the Law in the Pacific Rim Region Interest Group of the American Society of International Law and as an Executive Council Member of the Society of International Economic Law.